Description
Soundtrack Loops presents Foley V1 – Kitchen Things SFX. Created in Mexico by producer Edgar Lopez, Kitchen Things is a unique hybrid combo pack of Foley sounds paired with a diverse assortment of drum 'n' perc loops inspired by them. The title says it all—it's kitchen things! Banging pots and pans, timers ticking, spoons, pans and tuna cans, crunches, gulps, burps and slurps… from the organic to the mechanical, electronic, and… well, you get the idea—the sounds of the modern kitchen, fully documented and conveniently labeled for your Foley post-production needs in 60 well-recorded drag 'n' drop one shots. After you're finished in the kitchen, then bring the music! This is where Edgar brings in his beat-writing chops, in two sets (120 and 180 BPM) of rhythm loops, 80 in all, with feels ranging from classic dancehall to weird, Tom Waits-style pop, mini-industrial grooves, hilarious comedy beats and more. The production skills in play here bring to mind the amazing David Van Tieghem—file under 'serious fun' with genuine artistry. As for the sonics, everything blends together perfectly on a carefully constructed soundstage that's wide, deep, and dimensional. It's refreshing to get Foley effects recorded by a music producer, and this, in addition to being a dedicated Foley and beat loops hybrid collection, is where Kitchen Things stands apart as an awe-inspiring collection of great sounds, beats, and ideas.
As standard practice for all loops created by the Soundtrack Loops team, Key and BPM are tagged in both metadata and file names.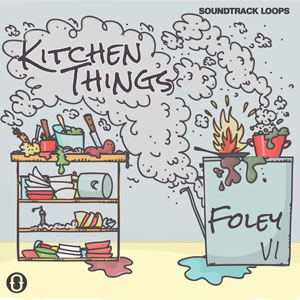 Kitchen Things SFX
Sound Effects, SFX, Kitchen Sounds,Kitchen Appliances, Intro, Songs Starters, Movie Music, Soundtracks, Loops, Royalty Free
---
Demo 1: Kitchen Things SFX
"Kitchen Things SFX" works in all DAWS and is 100% royalty free.
---
Zipped Contents (194 MB)

80 Loops
60 One-shots
120 + 180 BPM
24 bit 48k Stereo Files
Works in all DAWS | Universal .WAV,Recycle .RX2, & Apple Looped .AIFF Included |

Instruments

Baking Trays
Biting Apples
Chip Bags
Pots
Pans
Glassware
Grill
Refrigerator
Eggs
Gulps
Jar Lids
Burps
Slurps
Salt Shaker
Plastic Bag

Instruments (Cont.)

Pepper Mill
Kitchen Drawers
Kitchen Cupboards
Saucepans
Ticking Timers
Soda Bottles
Tuna Cans
Spoons
Tupper Ware
Toaster
Blender
Tongs
Ice
Crunchy bite
Water Cooler
---