Description
Soundtrack Loops presents Bent Beats Loops & One-shots . Circuit bending is the craft of extracting and modifying the electronic sound playback devices in old vintage toys, cheap instruments, and other noise-making appliances. With their voltmeters, soldering irons and alligator clips, the benders trigger new sounds, all rewired for craziness. The best of these find their way into great modern music and sound design, and can easily make a track stand out in totally unique ways. But getting these sounds is only half the battle—they need to be heavily produced to fit in, which here essentially means cut through. That's where Bent Beats comes in—you get great, finely processed circuit-bent samples that are drag 'n' drop ready to shine, in both beat loop and one-shot forms. Blended in with the bent material, you'll also find a generous selection of complementary sounds, including beats, scratches, and synths, that make it even easier to integrate the gritty, mid-forward circuit-bent material into your mixes. Try Bent Beats if you're into old-school boom-bap, lo-fi hip-hop, abstract electronica, and beguiling, CocoRosie-style pop. Topped off with 44 loops, 84 One-shots & long circuit bent samples, a bonus Ableton Live Drum Rack, and cover art by Ric Shultz, score this seriously bent construction kit and back your own music and the Soundtrack Loops mothership, in its ongoing mission of supporting artists that support each other.
As standard practice for all loops created by the Soundtrack Loops team, Key and BPM are tagged in both metadata and file names.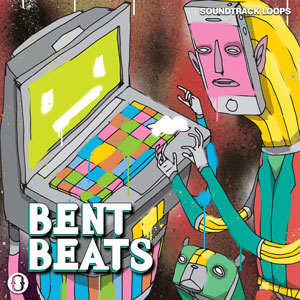 Bent Beats - Loops & One-shots
Circuit Bent, Beats, Toy Synths, Toy Drum ,HIp Hop, Lofi, Toys, Sci - Fi, royalty free
---
Demo: Bent Beats – Loops & One-shots
"Bent Beats – Loops & One-shots" works in all DAWS and is 100% royalty free.
---
Zipped Contents (134 MB)

17 quantized sequenced groove loops
8 melodic instrument loops
5 dj scratches loops
14 drum beats loops
42 long circuit bent samples (One-shots)
42 drum One-shots
85 – 100 BPMs
24 bit 48 Stereo Files
Works in all DAWS | Universal .WAV, Apple Looped .AIFF Included + Bonus Ableton Live Drum Rack |

Instruments

Voice
Synths
Sound Effects
Glitch
Snare
Mixed Beat
Sequenced Grooves

Instruments (Cont.)

Basses
DJ Scratches
Circuit Bent Toys
Kicks
Hats
Claps
Conga



---