Description
Recorded, close mic'ed slime textures in the style of autonomous sensory meridian response.
Outside of ASMR play, utilize these sounds in the designing of gore in the horror-movie genre, as bodily viscera & guts; or create otherworldly alien attributes for Science Fiction.
Textures range from runny drip to airy bubbly and from gooey chewy to crackling crispy.
A set of designed effects also included showing possibilities of creativity expanding from the original recordings.
Featuring the popular sounds of Bingsu, Styro, Iceberg and Foam from the ASMR culture.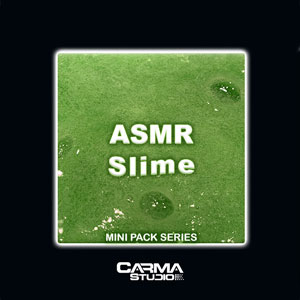 ASMR Slime
Field Recordings, Location Recordings,HBingsu, Styro, Iceberg, Royalty Free
---
Demo 1: ASMR Slime
"ASMR Slime" works in all DAWS and is 100% royalty free.
---
Zipped Contents (922 MB)

30 files ASMR Sounds
Metadata detail list as pdf
BWAV files at 48k/24bit resolution, metadata enabled
Works in all DAWS | Universal .WAV

ASMR Slime Group

Big Bowl
Crunchy
Sticky
Fluffy
Crispy
Crackly
Foamy
Wet
Dry
Gassy




Thunder Group

Bubbly
Snappy
Watery
Pull Apart
Slippery
Jelly
Gooey
Styrobeads
Chewy
Runny Drip



---