Description
Soundtrack Loops presents Study Beats Speech Phrases (inspired by LoFi girl voice samples). Study Beats Speech Phrases is an interesting split: nine complete music construction kit folders totaling 85 loops in one silo, and then a sidecar packed full of 208 vocal production samples created by Australia-born, LA-based, award-winning singer/songwriter, music producer and activist (our Lo-Fi Girl study girl) Szilva. The nine-kit music menu is all about chilled beats and themes, with full instrumentation ranging from 70 to 100 BPM. Here you'll find lots of lo-fi goodness: crunchy beats, saturated synth leads, some great pads, and all kinds of basses, with all parts completely separated out for total music production flexibility. Over on Szilva's side, we have sung phrases, righteous girl-power spoken word bits, some music instrument callouts, a few giggles and cartoon effects and other fun stuff, all delivered with Szilva's mic drop-worthy pro voice attitude. Think fun. Another fun concept: this hybrid title is a custom-blended one-stop download that provides instant access to a bunch of fun project ideas that you can roll out for instant gratification. Leave it to Soundtrack Loops to bring together musicians, producers, sound designers, and even visual artists, from all over the world, into collaborative teams that churn out royalty-free bundles with maximum value and (one more time, with feeling!) maximum fun.
As standard practice for all loops created by the Soundtrack Loops team, Key and BPM are tagged in both metadata and file names.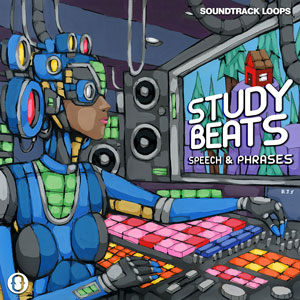 Study Beats: Speech Phrases
Lo-fi,Chillout,Downtempo, Speech, Phrases,Intro, Songs Starters, Movie Music, Soundtracks, Loops, Royalty Free
---
Demo 1: Study Beats LoFi Girl Voice Samples
"Study Beats: Speech Phrases" works in all DAWS and is 100% royalty free.
---
Zipped Contents (331 MB)

9 Lo-Fi Construction Kits
85 Loops
208 Lo-Fi Girl Speech & Phrases
70 – 100 BPM
Various Keys
24 bit 48k Stereo Files
Works in all DAWS | Universal .WAV, & Apple Looped .AIFF Included |

Instruments

Synths
Pads
Leads
Synth Bass
Arps
Percussion
Electric Guitars
Foleys
Bells
Piano

Instruments (Cont.)

Vinyl
Koto
Strings
Chords
Kicks
Hi Hats
Snare
Electric Bass
Vocals
Claps
SFX
---