Description
Soundtrack Loops presents Foley V2 – Trash Sound Effects & Rhythms. Producer Edgar Lopez is back, with Foley V2: Trash, and that means we have a new series in play! Starting with Kitchen Things (the debut title) we were introduced to a fresh concept: the Foley-and-music fusion library. A great idea made real by a talented producer, Kitchen Things is by turns coolly esoteric, compellingly weird, and laugh-out-loud funny. On Foley V2: Trash, we're treated to the same formula: loops (80, delivered at 130 and 200 BPM) and one shots (42 to be exact). The main draw is percussive impacts on cans, buckets, bottles, and more. These thuds, thumps, booms, clangs and ratchets, all made by striking household objects with hands and sticks, sound deep, round and rich, and are graced with great, highly detailed transients—they are, in fact, musical. The beats made with these sounds are just plain groovy, with a vibe and sparkle that, again, perfectly speaks the language of music—trash music for sure, but so tight and sonically pleasing! Back to the main draw—impact sounds suited for both Foley and music—you can be equally comfortable dropping Foley hits on your timeline, importing the one shots into your drum sampler to make totally complete kits, or using the loops in your music as complete beats. In every case, you'll be well on to some great sounds—bang on!
As standard practice for all loops created by the Soundtrack Loops team, Key and BPM are tagged in both metadata and file names.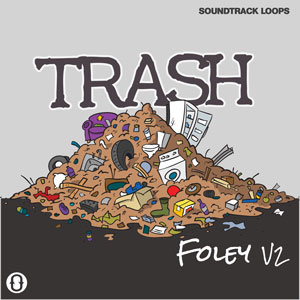 Trash Sound Effects & Rhythms
Sound Effects, SFX, Trash Sounds,Rubbish,Found Junk, Intro, Songs Starters, Movie Music, Soundtracks, Loops, Royalty Free
---
Demo 1: Foley V2 – Trash Sound Effects & Rhythms
"Trash Sound Effects & Rhythms" works in all DAWS and is 100% royalty free.
---
Zipped Contents (154 MB)

80 Loops
42 One-shots
130 + 200 BPM
24 bit 48k Stereo Files
Works in all DAWS | Universal .WAV,Recycle .RX2, & Apple Looped .AIFF Included |

Instruments

Cans
Falls
Hits
Strokes
Paper Cartons
Buckets
Cream
Powder
Eggs
Gulps
Glass Bottles
Lids
Cups
Cork
Shopping Cart

Instruments (Cont.)

Trash Bag
Shakes
Sweeps
Aluminum Crush
Glass Crush
Soda Bottles
Plastic Cup
Stick
Dolly
Sardine Can Lid
Ribbed Can
Tongs
Ice
Trash Can Lid
---