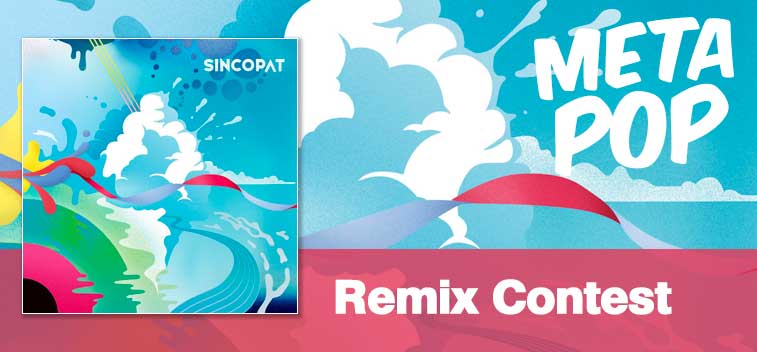 Soundtrack Loops and Meta Pop team up with an exclusive remix contest featuring Sincopat
---
Competition Information
Here's your opportunity to remix AFFKT's Someone in the Sky feat Sutja Gutierrez, released on Sincopat. We have provided STEMS for you to create a unique remix, with your own special sound. The deadline is two weeks. The sooner you create the remix, the more likely you'll be able to win.
Enter Remix Contest Here
---
Artist Bio
Hailing from the Spanish mainland is a sound that's resonating globally thanks to a choice select of tastemakers that are driving through the boundaries set out by their mediums. A notable character from that sub-culture of game-changers is Marc Martinez Nadal, aka AFFKT, who has been a driving force behind a colorful & empowering sound that is refined by his drive for perfection. Having worked on coining the sound of this alias since 2008, it has been a plethora of sound, place, person & culture that has provided a platform for AFFKT to experiment with his output. Serving electronica crossover masterpieces that delve into the many sub-genre's of house music via key imprints such as Suara, and his very own Sincopat label, and expressing versatility digging deep into his influences of the local by delivering heart-stopping, engaging techno on the likes of Kling Klong & Noir Music, AFFKT has committed to a life of synthesis and this is what sets himself apart from a comparatively shallow glance at dance music. Once described as a "Son Of A Thousand Sounds", AFFKT has evolved to a career peak where he has surpassed expectation and enjoyed praise from his peers. Cutting through the ranks, his path has retained an essence of so many that have influenced him, he now sits shoulder to shoulder in skill & presence.
---
Upload your remix by June 29, 2016 to win!
Prizes include:
Grand Prize: $250 Gift Card from SoundtrackLoops.com, $100 Gift Card from MetaPop & Commercial Release
Runner Up: $150 Gift Card from SoundtrackLoops.com & Commercial Release
10x Staff Pick: 10x Runner Earlove-XO Earplugs
---
Visit our sponsors page!
Anyone affiliated with the sponsors, companies, and their relatives involved may not enter. The competition starts September 25th, 2015 and is open to the entire globe. All entries must be fully submitted by midnight US CST on June 29, 2016. Entrants must be at least 13 years of age. Registration is required to participate and to download content. Entrants must provide accurate contact information. Winners will be chosen at random.