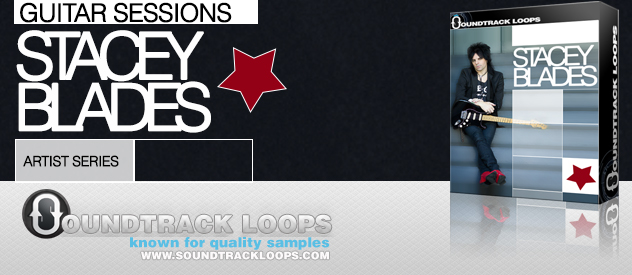 Soundtrack Loops is proud to be working with such an accomplished guitarist as Stacey Blades of famed Rock band L.A. Guns. Blades' amazing guitar skills will be available soon.




Press Release
With L.A. Guns, Blades has shared the bill with Alice Cooper, Whitesnake, The Scorpions, Dokken, Skid Row, Warrant, and more. He's been around the world, on the bill of many prestigious music festivals including M3 (of which a live show DVD was released in January 2013). Blades has also been in every music magazine including Rolling Stone, Spin, Metal Edge, and Premier Guitar.
In April 2009, Blades wrote and published a very revealing, and often-humorous autobiography, "Snake Eyes: Confessions of a Replacement Rock Star". The book received high marks from fans all over the world. In 2010, Blades also released his first ever solo instrumental album, "Symphonic Slam". It is a remarkable collection of rocked-out classical compositions by Strauss, Bach, Handel, and even Beethoven.
At the end of 2012, Blades left L.A. Guns to pursue more personal opportunities for performing and songwriting. He is currently collaborating with SixString, the guitar community app, and creating guitar-based soundbites for TV, film, and audio mixes with Soundtrack Loops. He can also be seen playing live with The HardRock AllStars.