Description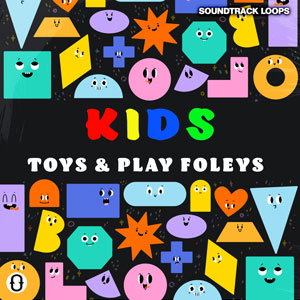 Kids - Toys & Play Foleys
Foley, Sound effects, sfx, Squeaky toys, Dog toys, Kid babble, kid talk, baby talk, kids toys, xylophone, Loops, Royalty Free, Soundtrack Loops, one-shots, Wav,Mixcraft,Ableton,Logic,Garageband, ACID,Cubase, Studio One, FL Studio,Fills, APPLE, AIFF, Apple Loops, ACID Loops, Cubase, Mixcraft,Logic pro, GarageBand,Ableton,FL Studio
---
Demo 1: Kids – Toys & Play Foleys
"Kids – Toys & Play Foleys" works in all DAWS and is 100% royalty free.
---
Soundtrack Loops intros Kids – Toys & Play Foleys. Right on time, Mexico City-based producer Edgar Lopez delivers Kids: Toys & Play Foleys. We'll start by stating the obvious: if you create children's music, you need this. To understand the rest of the story, it helps to know that Edgar is a renaissance man of forms: authentic, deep, and sophisticated music aesthetics that span genres; globe-spanning grooves with amazing feels and variations; production chops that favor super-crisp, very forward, and highly articulated music and sound, and throughout, an incomparable and compelling identity and personality. If you enjoy this unique and refreshing mix of music and Foley, make sure to check out Soundtrack Loops' complete catalog of Edgar Lopez-produced titles, including Frightening Sounds; Human Body; Industrial Complex; Kitchen Things; Mexico City; Motors, Machines, and Metal Noises; Office; Sports Foleys & SFX and Trash. Merge the 120 mixed beat loops (rendered at 75, 100, and 120 BPM) and 108 one shots included with Toys & Play Foleys into our extensive Edgar Lopez-produced catalog of ingenious assets, and explore a big and brilliant set of absolutely delightful and inspiring music and sound. These titles will propel you into new spaces in pop, hip-hop, and every subgenre of electronic and world music.
As standard practice for all loops created by the Soundtrack Loops team, Key and BPM are tagged in both metadata and file names.
Zipped Contents (150 MB)

108 Foley One-shots
120 Rhythmic Loops
Various BPM
Various Keys
24 bit 48kHz Stereo Files
Works in all DAWS | Universal .WAV, & Apple Loops .AIFF Included |

Instruments

Baby Talk
Baby Babble
Kids Talk
Kids Babble
Kids Rattle
Toy Buttons
Toy Switch
Corn Popper
Toy Box
Kid Drums
Squeaky Dog Toys
Cups
Robots
Talking Dolls
Robots

Instruments (Cont..)

Handbell
Blocks
Music Box
Maracas
Party Horn
Pop Tubes
Prank Whistle
Remote Control Car
Kids Flute
Toy Cars
Bells
Toy Gun
Toy Phone
Xylophone