Description
Soundtrack Loops intros Sports Foleys & SFX by renown foley recording expert Edgar Lopez of Office, Human Body, Industrial Complex, Trash to name a few. Edgar Lopez harvests location recordings that lend themselves to Foley, music, and a special place in between, where he works his unique aesthetic. He hears music everywhere—in Edgar's world, every sound is fair game for the art form, and Soundtrack Loops is continuously delighted to represent his progress at every new step. And so, here we have Sports Foleys & SFX, a collection with that trademark integration of Foley and music that makes every one of Edgar's titles so amazing. First up, the core sounds: 81 short, very crisp one shots comprising completely isolated sonic events that happen in a wide variety of indoor and outdoor sports, from stadium sports like baseball and football, to parlor sports like billiards and table tennis. These discrete one shot events are delivered with fast transients and sparkling 3D sonics, and as you can easily imagine, they all have enormous potential for making beats. This is illustrated here by the inclusion of 120 loops constructed at 80, 100, 130, and 160 BPM. This collection of killer rhythms is ready to roll on your timeline for instant gratification across many flavors of pop and electronic music, and we're sure that you'll also feel an uncontrollable urge to splay these sounds across your favorite samplers to investigate just what you can accomplish with this absolutely stellar title. Royalty free sports foley sound pack can be used for producing music, video, games, radio, and streaming.
As standard practice for all loops created by the Soundtrack Loops team, Key and BPM are tagged in both metadata and file names.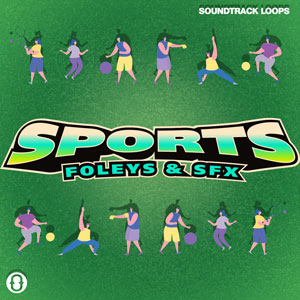 Sports Foleys & SFX
sports, hockey, soccer, basketball, pool,boxing, fencing, Crowds,golf, karate,ping pong,tennis,swimming,skating,baseball, volleyball Foleys, SFX
---
Demo 1: Sports Foleys & SFX
"Sports Foleys & SFX " works in all DAWS and is 100% royalty free.
---
Zipped Contents (110 MB)

120 Foleys Rhythm Loops
81 One-Shot Sports SFX
80-160 BPM
24 bit 48kHz Stereo Files
Works in all DAWS | Universal .WAV & Apple Looped .AIFF Included |

Instruments

Rhythmic Sports SFX Beats
Football(American)
Archery
Basketball
Boxing
Crossfit
Crowds
Darts
Exercise
Fencing
Golf
Hockey
Breathing
Karate
Ping Pong
Pool
Referee Whistle
Shouts

Instruments (Cont.)

Skateboards
Skates
Soccer
Splashes
Starter Pistol
Tennis
Volley Ball
Vuvuzela Horn
Baseball Bats
Ball Kicks
Bouncing
Stomping
Clapping
Goal Buzzer
Bells
Sprays
Trampoline
---