Description
Soundtrack Loops presents Foley V5 – Industrial Complex Sound Effects & Rhythms. Good News! Producer Edgar Lopez is back, with Industrial Complex, his fifth entry in the Soundtrack Loops catalog. Edgar owns a sweet spot between Foley and music. All of his Soundtrack Loops titles have both signature vibes and subtle yet distinct differences in mood and style that set them clearly apart, giving producers a large and expanding set of easily interchangeable sounds to work with. Industrial Complex has everything we've come to expect from Edgar—the wide-open sonics, the variety of sounds, and even that sly and sophisticated sense of humor he always brings to the party, which really sets him apart from the pack as an artist. Rolling out the adjectives, we have all the usual suspects: cranky, squelchy, raspy, boomy… The musical side is harder to describe—but it swings! It's almost as if every box of junk has a set of rhythms stored in its atoms, and Edgar's purpose in life is to root them out—and indeed he does, and with a remarkably positive nonchalance. Maybe that's why it seems so funny sometimes—he makes it look too easy! And so, you need this if you produce industrial, electronic/experimental music, global pop, hip-hop, sound design, and… are we forgetting something? Oh yes—Foley! Industrial Complex contains 120 rhythm and noise loops (85, 135, and 200 BPM), 70 one shots, and 120 bonus REX files.
As standard practice for all loops created by the Soundtrack Loops team, Key and BPM are tagged in both metadata and file names.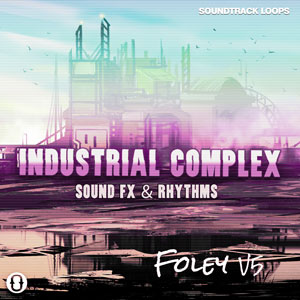 Industrial Complex Sound Effects & Rhythms
Sound Effects, SFX, Foley, Industrial Sounds, Machinery, Industrial Fans, Heavy Metal,Drills, Plasma cutters, sheet metal, Steel pipes, Movie Music, Soundtracks, Loops, Royalty Free
---
Demo 1: Foley V5 – Industrial Sound Effects & Rhythms
"Industrial Sound Effects & Rhythms" works in all DAWS and is 100% royalty free.
---
Zipped Contents (260 MB)

120 Loops
70 One-shots
85 + 200 BPM
24 bit 48k Stereo Files
Works in all DAWS | Universal .WAV,Recycle .RX2, & Apple Looped .AIFF Included |

Instruments

Bench Drill
Gas Tank
Aluminum Sheet Metal
Tool Boxes
Ladders
Air Compressor
Air Extractor
Ratchet
Square Pipes
Circle Pipes
Hammers
Flexometer
Helmets
Moving Heavy Metal
Drilling

Instruments (Cont.)

Hydraulic Doors
Hydraulic Presses
Industrial Fan
Square Tubes
Metal Saws
Oil Drums
Plasma Cutting
Packing Tape
Winch
Wire Mesh
Tape Measurer
Welding
Shock Absorbers
Steel Scraps & Pipes
---