Description
We've dug deep into the circuit paths of electronic equipment using signal tracers to scan and record electronic noise and electromagnetic fields (EMF) emanating from electronic equipment.
This third installment in a series of three sound libraries focuses on the elements of power sources with noise drones of electrical power, 60Hz cycle hum, dirty ground buzz with static, glitch, pops, snaps, crackles & electronic interference including low-end & pulsing frequencies. Be careful with your ears, some of these are nasty sounding.
55 sound effects created as 10-second files that can be used to create an environment, whooshes or looped and layered to make atmospheres. Recordings were left as raw as possible keeping all the bits intact for designing new creations. Great for power & energy sources, technology, data transmission, and Sci-Fi.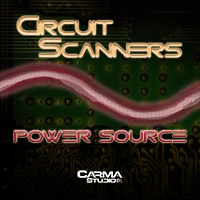 Circuit Scanners - Power Source
Sound Effects, SFX, Power sources, Royalty Free
---
Demo 1: Circuit Scanners – Power Source
"Circuit Scanners – Power Source" works in all DAWS and is 100% royalty free.
---
Zipped Contents (451 MB)

55 Power Source recordings
96k & 44k / 24bit WAV files metadata enabled.
Works in all DAWS | Universal .WAV
---