Description
Soundtrack Loops presents Ansonix – 8 Bit EDM Leads. "Music genres come and go," as they say, but actually, no—it's not like that. Music genres come and stay—like viruses, they enter the music slipstream and mutate constantly. Dublin-based Ansonix producer Anton Cullen is an unironic 1980's chiptune specialist upgraded for the twenty-first century. His superpower is blending formal retro gaming ideology with current practices, to arrive at music that hits new levels of pure listening enjoyment. 8-Bit EDM Leads is a complete construction kit that delivers the Ansonix experience in four themes comprising 84 loops. Sorted into beat components, bass lines, chord structures, lead lines, and wild arpeggios (the jewels of this collection), the individual sounds flaunt their bona fide chiptune pedigrees as well as distinct classical, pop, rock, dance, and contemporary EDM influences. Known for playing chiptune feels live on his keyboard, Ansonix's approach makes Ansonix tracks sound fresh and natural, and this kind of diversity of course guarantees great loops that can be used in many ways. In these late-stage times, every music genre that ever was is now resurgent. Your thing might be pure chiptune or part chiptune, sincerity or irony, work or play. Whatever it is, the resources on 8-Bit EDM Leads are here to help you make it happen.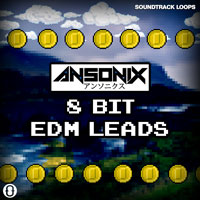 8 Bit EDM Leads
8 bit, 16 bit, video games, chiptunes, electronica, arcade, Sega, nintendo, Loops, Royalty Free
---
Demo 1: 8 Bit EDM Leads
"8 Bit EDM Leads" works in all DAWS and is 100% royalty free.
---
Zipped Contents (209 MB)

84 8 Bit EDM Leads & Chiptune Loops
Four 8 Bit EDM Kits
130 – 150 BPM
Various Keys
24 bit 44.1 Stereo Files
Works in all DAWS | Universal .WAV

Instruments

Synths
Hats
Arps
Organ
Kick
Bass
Lead

Instruments (Cont.)

Chords
Snare
Chrashes
Builds
SFX
Percussion
Cymbal
---