Description
Soundtrack Loops presents Frightening Sounds. Strange voodoo from Mexico—it's Frightening Sounds. This is not your typical scary sounds collection—instead of that faux-creepy stuff you might expect to find on a title such as this, here we have something that's way more surreal. Producer Edgar Lopez knows both Foley craft and the art of music, and this makes all his work stand out as being unique in both arenas. Frightening Sounds is no exception—again, we have the Tom Waits-level weirdness, the slightly twisted, slightly ironic and totally spot-on sense of humor, the groovy equatorial rhythm feels, but this time, Edgar has also built in a vintage automaton-like crankiness that would sound perfectly at home in a Brothers Quay film—again, key word: surrealism. This arthouse vibe is what makes Frightening Sounds stand apart—it refuses to be typecast as gothic horror or dark industrial, and veers toward doing its own thing, which of course will better help you do yours when you need some dark potions dripped into your timeline. Frightening Sounds—80 beat loops at 85 and 120 BPM, and 71 one shots for your toolbox. Dry bones, rusty pipes, owls and rain, unknowable chants, unspeakable secrets—this title is great on its own, and a perfect fit in the growing Soundtrack Loops / Edgar Lopez collection of libraries that merge music creation and Foley sound design in a remarkable and refreshing way.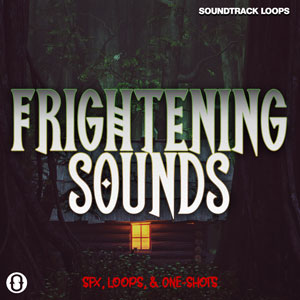 Frightening Sounds Effects and Loops
Halloween, Sound FX, DJ Drops, Scary
---
NEW HALLOWEEN BUNDLE! $20 4 packs CLICK HERE FOR INFO
Demo 1: Frightening Sounds Effects & Loops
"Frightening Sounds Effects & Loops" works in all DAWS and is 100% royalty free.
---
Zipped Contents (298 MB)

80 Loops
71 Sound Effect One Shots
24 bit 44.1 Stereo Files
Works in all DAWS | Universal .WAV,Apple Looped .AIFF, & Recycle .RX2 included

Instruments

Axe Hits
Door Slams
Door Knocks
Breaking of Bones
Broken Glass
Chains
Cats
Church Bells
Furniture Moving
Crows
Creaky Fence
Demons
Evil Laughs
Ghostly Voices
Horse Running
Owls

Instruments (Cont.)

Nails Scratching
Iron Sheets
Metal Pipes
Monks Praying
Malevolent Laughs
Mummys
Rain
Potion
Scary Choir/li>
Shovel Burying
Werewolf
Teeth Chattering
Wind
Whispers
Squeaky Doors / Floors
Witches
Screaming



---