Description
Halloween Sounds
The same team who swirled the cauldron to bring you Scary Voices is back with another epic set of vocal bits, DJ drops, and sound effects for Halloween and the supernatural beyond. Voice actor Johann Smit performs some of the most disturbing vocal drops, groans, growls, and other paranormal mutterings. This collection also includes key elements such as eerie children's voices, leading lady screams, inappropriate laughter, and insane monologues. You'll need look no further for guttural zombies, creaky floors and slamming doors, thunderstorms, and other twisted looped phrases and sound effects. We revived our own ghostly DJ to utter spooky hit phrases like, "make them scream," and "lose your head." This collection goes a step further into the dark with "I feast on that sound" and, naturally, "welcome to the dance floor of fear." There are a total of 149 virgin files just waiting to get mangled in your mixes. As a bonus, we've included an all-original Halloween theme song for you to use freely in your videos and performances…if you dare. Files are in 24bit 44.1kHz stereo wav format.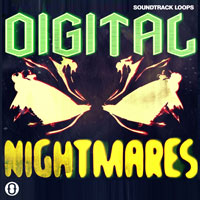 Digital Nightmares - DJ Drops and Halloween Sounds
Halloween, Sound FX, DJ Drops, Scary
---
Demo 1: Digital Nightmares
"Digital Nightmares" works in all DAWS and is 100% royalty free.
---
Zipped Contents (520 MB)

149 Loops
24 bit 44.1 Stereo Files
Works in all DAWS | Universal .WAV included with more formats in production

Instruments

Creepy Kid
Creepy Laughter
Long Speeches
Moans and Groans
Sound FX

Instruments (Cont.)

Phrases
Dancing Zombies
Granular Loops
Twisted Creatures



---