Description
Soundtrack Loops intros Cosmic Sea – Ambient Soundbeds. Following up the 'heavily combative beats' found on his first Soundtrack Loops title, CORROSIVE MACHINES, Cosmic Sea is the second Soundtrack Loops outing by producer Colin C., and here we have a completely different bill of goods. The Cosmic Sea vibe is the sound of classic analog synth textures that span three sonic categories: Melodic Pads (40 files), Atonal Drones (40 files), and Impacts & Blasts (20 files). The pads are deeply textured and evolve gracefully and unobtrusively. The drones are organic, full-spectrum, extremely detailed and highly evocative, and the impact sounds are similar in nature and range from rich sub-bass thuds to intense rips. The entire collection exhibits beautiful VCF work that is really a Colin C. trademark. One serious problem with ambient texture-based collections is the overabundance of garish, gimmick-laden sounds that attract way too much attention to themselves. Cosmic Sea doesn't have this problem; the Colin C. aesthetic favors sonic integration over sonic domination, yet at the same time, the sounds themselves are complete—rich with character, they can easily stand by themselves. This is remarkable, and it's always the outcome when skill, taste, and expertise merge with a complete understanding of sample library structure and how to make the most if it.
Hardware captured with Apogee Symphony converters at 48kHz
Processed using SSL 4000 G (bus compressor / coloring) & Crane Song IBS (EQ)
As standard practice for all loops created by the Soundtrack Loops team, Key and BPM are tagged in both metadata and file names.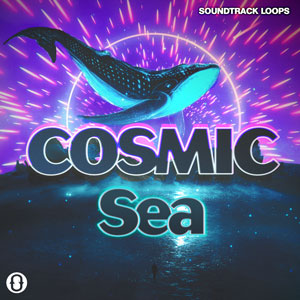 Cosmic Sea - Ambient Soundbeds
Ambient,Soundscapes, Soundbeds, musicbeds, Drones, Pads, Intro, Songs Starters, Movie Music, Soundtracks, Loops, Royalty Free
---
Demo 1: Cosmic Sea
"Cosmic Sea" works in all DAWS and is 100% royalty free.
---
Zipped Contents (991 MB)

100 Ambient Soundbeds
Various Keys
24 bit 48kHz Stereo Files
Works in all DAWS | Universal .WAV, & Apple .AIFF Included |

Instruments

Drones
Impacts
Blasts
Melodic Pads
Electric Beats
Synths
Melodies

Gear

Prophet 12
Jupiter 8
Juno & Oberhiem emulations
SoundMorph Dust engine
Custom Reaktor granular ensembles
Unfiltered Audio Silo
Eventide Physion
---