Description
Carma Studio brings new characters to the party with Games Phrases 2!   Created by sound designers Leif Olsen and Jim Stout, this new collection has been expanded with new characters and new processing, including Ai ( Artificial Intelligence ) for that "almost human" feel.  There are also a series of Japanese Phrases and Onomatopoeia sounds for that authentic video game flair. Complete with Lo-FI bit crushed, computer and dry versions of the phrases we are confident you will find the sounds you need for your next mobile app, game or game inspired track. Ready Player 2!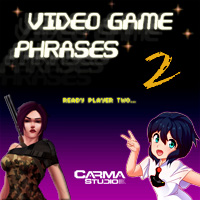 Game Phrases 2
Arcade, Game, Game Phrases, Arcade Game Vocals, 8bit, Royalty Free
---
Demo 1: Game Phrases 2
"Game Phrases 2" works in all DAWS and is 100% royalty free.
---
Zipped Contents (1.6 GB)

2305 Royalty Free Arcade Game Vocals and Phrases
Various BPM
24 bit 44.1 Stereo Files
Works in all DAWS | Universal .WAV

Phrases

197 Famous Phrases
142 Game Words Voice 1 Dry
142 Game Words Voice 2 Dry
149 Informative & Commands Dry
76 Japanese Game Words Dry
95 Famous Phrases Ai
162 Game Words Voice 2 Ai
148 Informative & Commands Ai
148 Informative & Commands Mother Ai
76 Japanese Game Words Ai




Phrases (cont..)

95 Famous Phrases LowFi
142 Game Words Voice 1 8-Bit
142 Game Words Voice 2 LowFi
148 Informative & Commands LowFi
76 Japanese Game Words LowFi
138 Game Words Voice 1 Computer
134 Game Words Voice 1 Vocoder
28 Japanese Onomatopoeia
28. Japanese Onomatopoeia Ai



---