Description
Carma Studio teleports you to the Golden Age of Video Games with over 600 sound 'bytes' starring 5 characters: 8-bit Low-Res Man, Computer Room Man, Tough Guy, and 2 Vocoders. These familiar and clearly articulated words & phrases straight from the arcades of the past will add that nostalgic accent to today's music and production work.  Soundminer enabled 44k/24bit format.  Deposit coins… ready, start playing!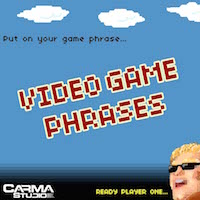 Video Game Phrases
video games sounds
---
Demo 1: Video Game Phrases
"Video Game Phrases" works in all DAWS and is 100% royalty free.
---
Zipped Contents (282 MB)

143 8Bit Phrases
142 Computer Voices Phrases
53 Tough Guy Phrases
135 Vocoder Phrases
136 Vocoder 2 Phrases
---