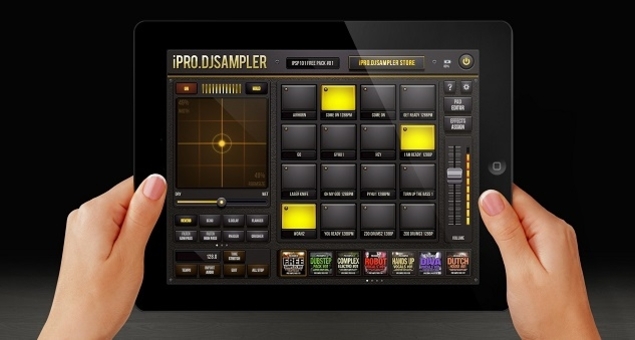 Soundtrack Loops' very own co-founder Jason Donnelly (Dj Puzzle) is proud to be a part of this new revolutionary iPad app! Please show us support and check it out, maybe leave a nice review for the app since it's free!? The app is free and Puzzle's Trap pack is only $.99 usd.
About iPRO.DJSAMPLER: Vicious Recordings' Andy Van launched a sampling app for the iPad two and half months ago called, handily, the iPro.DJSampler. Designed for use in live performance, the app allows you to buy packs of features, samples and effects for EDM, dubstep, electro, Dutch house, rap and vocals licensed from labels like OWSLA (Skrillex's label) and Dim Mak (Steve Aoki's label), and trigger and manipulate those samples using an XY pad, trigger pad and effects like reverb, flange, delay and filters.
Van says he created the app because he "couldn't find an app on the iPad that could do what I wanted," and he's obviously hit a market gap, as the free app's had 12,000 downloads since its launch. Now Van's launched an upgraded version of iPro.DJSampler with a free EDM Sample pack and Effects Pack, as well as downloadable sample packs for the Melbourne Sound and a Trap Sample pack from LA's DJ Puzzle.
Watch the promo video below for a look at how the app works and just how much you can do with it – you can pick up the app for free.
iPR.DJSAMPLER is available for free here: