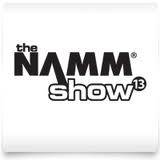 We are packing up our tablets, laptops, phones and are walking shoes. A flight from Denver to L.A., a trip to rental car agency, a night out with friends and, then we are on our way to Anaheim, CA for this year's The NAMM Show 2013. The excitement is in the air in our preparations.
Each year the Soundtrack Loops team has been visiting " The NAMM Show " for press and for our own music gear geek-dom.
We will be blogging and posting pictures. If your there hopefully you'll stop by and say hi. Look for red shoes.