Description
This Halloween, be prepared to be scared! From Carma Studio, comes the ultimate Halloween package. With over 1500 individual sounds, this collection has something for every media artist. Whether you're searching for vocal phrases, eerie ambiance, terrifying screams, or possessed toys, we've got you covered. Sound designer and Carma Studio founder Jim Stout, along with Los Angeles based sound designer Leif Olsen have compiled a one-stop Halloween extravaganza. After working with vocal talent from coast to coast, going out into the field to capture the true sounds of an eerie night, and using every trick of the trade to sculpt the perfect preternatural sounds for your Halloween projects- Carma Studio has created a truly unique collection of Halloween delight!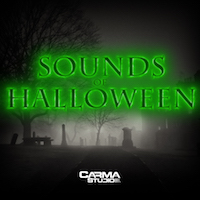 Sounds of Halloween
Synthwave, Carma Studio, 80s, Halloween, Scary sounds, Thriller
---
Demo 1: Sounds of Halloween
"Sounds of Halloween" works in all DAWS and is 100% royalty free.
---
Zipped Contents (3.67 GB)

1500+ Loops,One-shots & SFX
Wav files (24 bit @ 44.1 KHz)
Works in all DAWS | Universal .WAV, with more formats in production

Sounds & FX

Chain Saws
Chains
Chalkboard Scratches
Classic Horror sounds
Creatures
Demons
Door Knocks
Doors and Gates
Eerie Metallic textures
Electrical Buzzing
Evil Ambiences
Evil Broken toys
Evil Laughing
Evil Whooshes
EVPs
Female Phrases
Foot Steps
Ghost Whispers
Glass Breaking
Gore

Sounds & FX (cont..)

Grave Robbing
Impacts
Jump Scares
Knock and Thuds
Liquid
Little Girl Voices
Male Phrases
Males Phrases 2
Monster Groans
Music Boxes
Outside Sounds
Piano Effects
Prayer
Rain and Thunder
Scary Animals
Scream Breath Panting
Sounds of Halloween Trailer Phrases
Vintage Hits
Waterphones



---