Description
Deep House DJ STEMs from Sebastian Crane.
Download "Masters of Sex" DJ Stems for use in a live DJ performance or broadcasting. Artist Sebastian Crane. Stems included: bass, drums, stabs, kick, melodics, vox, effects (Dub) master, (Speech) master. Formatted and combined into the new Native Instruments format currently for Traktor DJ and Traktor controllers.
STEM download includes: 2 Deep House songs "Master of Sex" in MP4 STEM format for separation of instruments and beat matching in a live mix, tv, radio or broadcasting.
7 Stem files of the original .Wav instrumentals.
Recorded in 24bit 48khz
Track 1: Masters of Sex – Deep House DJ STEM – Sebastian Crane Download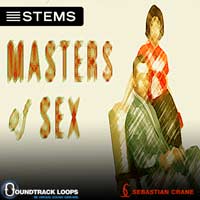 Masters of Sex - Deep House DJ STEM
Deep House, Progressive House, House, IDM, DJ Tools, DJ STEMS
Zipped Contents (669 MB)

(2) Deep House DJ STEM
(7) Deep House Instruments STEM WAV
128 BPM
Key F#min
24 bit 48.1 kHz Stereo.
Includes Stem.mp4 for Native Instruments Traktor