Description
Bangin' Like Sheen DJ STEMs from Sebastian Crane.
Download "Bangin' Like Sheen" DJ Stems for use in a Live DJ performance or broadcasting. Artist Sebastian Crane. Stems included: bass drum, blips, snare, vox, and master. Formatted and combined into the new Native Instruments format currently for Traktor DJ and Traktor controllers.
STEM download includes: 1 Trap song "Bangin' Like Sheen" in MP4 STEM format for separation of instruments and beat matching in a live mix, tv, radio or broadcasting.
5 Stem files of the original .Wav instrumentals.
Recorded in 24bit 48khz
Track 1: Bangin' Like Sheen – Trap DJ STEM – Sebastian Crane Download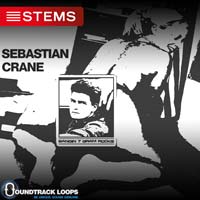 Bangin' Like Sheen - Trap DJ STEM
Trap, Dubstep, Clubstep, DJ Tools, DJ STEMS
Zipped Contents (225 MB)

(1) Trap DJ STEM
(5) Trap Instruments STEM WAV
90 BPM
Key F#min
24 bit 48.1 kHz Stereo.
Includes Stem.mp4 for Native Instruments Traktor