Description
Soundtrack Loops presents Chill Beat Harps. If full-on construction kits are like galleries, then single instrument libraries are like the art we hang in them. Here we have an artwork—a single instrument library possessed of a very specific and refined kind of beauty. Chill Beat Harps by Sizalyth is a montage assembled from the sounds of one completely unadorned and expertly played acoustic harp. 52 two-bar and four-bar phrases are included—all beautifully clean and tightly timed, with clear and sharp transients, precise articulation dynamics, and played in a way that showcases the classic voicings and dancing syncopations of the harp lexicon. From placid, idyllic and childlike, to icy, pointillistic and minimal, these figures work perfectly for accessorizing pop, hip-hop, electronic and experimental music forms. A variety of moods are on display, all unified by an unironic appreciation of formalism that comes off as both genuine and deep—a pleasantly strange experience, and especially interesting given that harpist Sizalyth is also a cutting-edge electronic music producer who taps control surfaces just as deftly as she plays her harp—maybe that's why these loops sound so ready to be dropped into hard-quantized modern music. Immaculate editing and top-notch sonics make these themes and accents easy to work with—an automatic win for bringing a 100% organic hand-played feel to the music.
As standard practice for all loops created by the Soundtrack Loops team, Key and BPM are tagged in both metadata and file names.
*Only Acoustic Harp Sounds are included in download.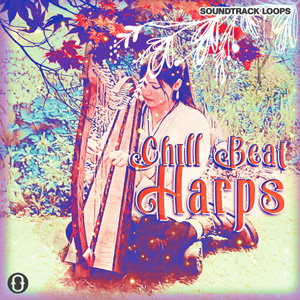 Chill Beat Harps
Intro Loops, Intro SongsStarters, Movie Music, Soundtracks, Loops, Royalty Free
---
Demo 1: Chill Beat Harps
"Chill Beat Harps" works in all DAWS and is 100% royalty free.
---
Zipped Contents (132 MB)

52 Harp Intro Loops
80 – 102 BPM
Various Keys
24 bit 44k Stereo Files
Works in all DAWS | Universal .WAV & Apple Loop .AIFF Included |

Instruments

Instruments (Cont.)
---