Description
Building on the iconic sound of the Jupiter-8 and Juno 106, Synthwave for System-8 brings the iconic analog sounds of the 80s and early 90s to Roland's System-8 supersynth. Ideal for genres ranging from Retronica/Synthwave to Indie Chill to Future Funk and intelligent Trap, this pack also includes an additional 32 fully functional presets that utilize the System-8's AIRA engine.
Co-created by renowned sound designer Francis Preve and sample library legend Jim Stout, Synthwave System-8 is the gold standard for producers looking for a retro vibe.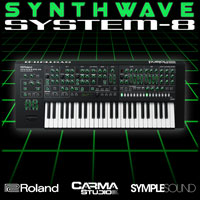 Synthwave for Roland System-8
Synthwave, System 8, Roland, Presets
---
Demo 1: Synthwave for Roland System-8
"Synthwave for Roland System-8" works in only Roland System 8 Software and is 100% royalty free.
---
What's in the Pack

32 Patches for the System 8 Engine
32 Patches for the Jupiter 8 Engine
32 Patches for the Juno 106 Engine

Software requirements

System 8 version 1.12 required

Zipped Contents (68 MB)
---