Description
SpecDrums is a plugin based on the sounds of the SpecDrum, a drum machine add-on for the ZX Spectrum computer. This add-on would give the venerable ZX Spectrum the ability to program rhythms using 8 different drum sounds sampled at 8-bit. At the time, to get more sounds, you would buy additional drum kits on data cassettes. Three Drum Kit cassettes were available: the Electro Kit for Simmons drum sounds and the Afro and Latin Kits for ethnic flavored percussion. All these Kits are included in SpecDrums, the first virtual plugin incarnation of this technological relic.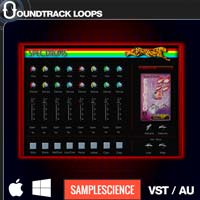 SpecDrums - VST / AU Drum Synthesizer
Synthwave, Electronic Music, Drum Machine, VST, Audio Units, Virtual Synthesizer
---
Demo 1: SpecDrums – VST / AU Drum Synthesizer
"SpecDrums" is 100% royalty free and works in every DAW.
---
Zipped Contents (51 MB)

8 Drum Kits
Drum Kits tagged with a "M" are the multi-outputs version of these kits.
SpecDrums is available as a Windows VST plugin (native 32 bit/64 bit) and Universal VST/AU Mac OS X plugins.

Specifications

Windows VST plugins in both 32 bit and 64 bit format
Mac OS X Universal VST and AU plugins format
Each instrument/sound consist of a single cycle 16 bit 44.1 kHz wave file.
Compatible with the most popular DAWs on the market: Ableton Live, Cockos Reaper, Steinberg Cubase, FL Studio, Traktion, Mixcraft, Sony Acid, Presonus Studio One, Cakewalk Sonar & Apple Logic Pro.

Drum Kits

SpecDrums
Electro Kit
Afro Kit
Latin Kit
SpecDrums (M)
Electro Kit (M)
Afro Kit (M)
Latin Kit (M)
---