Description
This bank of skillfully crafted patches will bring you instant inspiration. The sounds are based around a new custom wavetable with 64 all-new custom waveforms. These brand new waveforms allow for new and unique sounds and timbres that were not possible with DUNE 2 until now!
Using this bank of patches, you will get the sound and feeling of EDM straight away! These sounds will appeal to producers of many different genres and the all-new waveforms are perfect building blocks for those of you who like to experiment and design your own sounds!
The soundbank features 100 presets including electro basses, inspiring leads, side-chain "pumping" sounds, driving plucks, chilled and evolving pads, tempo synced arps and sequences, FX sounds and drum sounds for ALL your EDM production needs. These sounds are a perfect compliment to our other soundbanks for DUNE 2, "Renegade EDM" and "Filthy Basses".
All the sounds you need are here for making genres such as: EDM, Electro House, Big Room, Festival House, Trance, Psy Trance, Minimal, IDM & more.
Mod wheel programming is featured in most patches for extreme sonic flexibility and sound variation(s). Always use the Modulation Wheel on your keyboard while playing a sound, interesting things will happen (morphing). In fact in many cases you will have two sounds in one single preset, just by opening the modulation wheel.
Demo 1: DUNE 2 – Artisan EDM – Soundbanks VSTi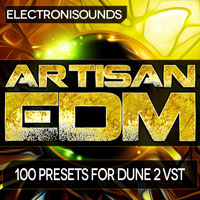 DUNE 2 - Artisan EDM - Soundbanks VSTi
EDM, Minimal, Big Room, Trance
Zipped Contents (18 MB)
9 ARPS — 13 BASSES — 2 CHORDS — 12 DRUMS — 5 FX — 26 LEADS — 6 PADS — 4 PLUCKS — 14 SEQUENCES — 9 SYNTHS
14 MIDI files
1 WaveTable
*Must Own DUNE 2 Software to use these presets