Description
Electronisounds' Bass Music for Serum will definitely recharge your sound arsenal and give you new inspiration! Overflowing with ALL the fresh sounds you need to write your own bass music bangers from the ground up. The sounds are so easy to use and versatile, you will be coming back to this pack again and again to use the sounds in multiple tracks, for many different genres and ALL BPM's!
Bass Music for Serum 128 patches are based around 75 all new custom wavetables which are also included in this pack for you to design your own patches with. Macro control modulations and mod wheel assignments (just waiting to be tweaked and automated by you) are featured in most patches!
PATCH DETAILS
————-
BPM BASS – 19
BPM SYNTH – 44
FX – 6
GROWL – 15
LEAD – 23
MODULATED BASS – 17
PAD – 4
Demo 1: Bass Music for Serum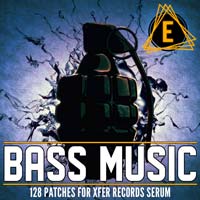 Bass Music for Serum
Bass, Jungle, Drum n Bass, DnB, Growlers
Zipped Contents (143 MB)
(128) Presets of Bass Music for Serum
(435) Drum One Shots (Wav)
(75) Wave-Tables of Bass Music for Serum
24 bit 44.1 kHz Stereo.
* You will need a registered version of SERUM version 1.071 or later to load these patches.
As a BONUS, we've included 435 drum one-shots to get you up and running with making new tracks straight away. All the drum sounds from "Dubstep Cyborg Cartel, "Evolved Drum and Bass" and "Black Label Glitch Hop" are included!! These are powerful, hand-crafted-from-scratch drum sounds that can be combined and used in many bass music genres. (ALL kick drums are key-labeled). These drum sounds ALONE are well-worth the price of this pack!!
"Bass Music for Serum" is 100% royalty free, meaning you can add all of these elements to your sound without worrying about any sample clearance hassle!